5 Reasons NOT to Learn Chinese Erhu
August 27, 2014
5 Reasons to Learn Chinese Zhong Ruan
September 14, 2014
The purpose of this post is to inform you that we are the specialized repair centre for Song Guang Ning Zhongruans, Daruans and GaoYinRuans. We are able to repair any problems you have with your Song Guang Ning Zhongruans, including re-fretting.
Song Guang Ning Zhongruans are currently the most popular Zhongruans used by professional players in China. It has a huge following in Singapore as well.
With great numbers comes great problems as well. Not that their ruans are not durable, just that things like the neck breaking, frets dropping, body cracking, tailpiece cracking can happen to any Zhongruan after prolonged usage.
Hence we find it is important to have someone skilled to repair Song Guang Ning's zhongruans, in order to preserve its authenticity and tone.
This year August, with the help of Zhongruan and Liuqin maestro Zhang Xin Hua, we posted one of our staff to Song Guang Ning's factory at rural China to learn specifically how to repair their Zhongruans.
The operations of Song Guang Ning's factory is a well guarded secret. They do not allow public to visit and the selling is usually done via Zhang Xin Hua. It is thus a privilege to be able to be attached to the factory for training.
Here's an inside look of the place where your lovely ruans are made: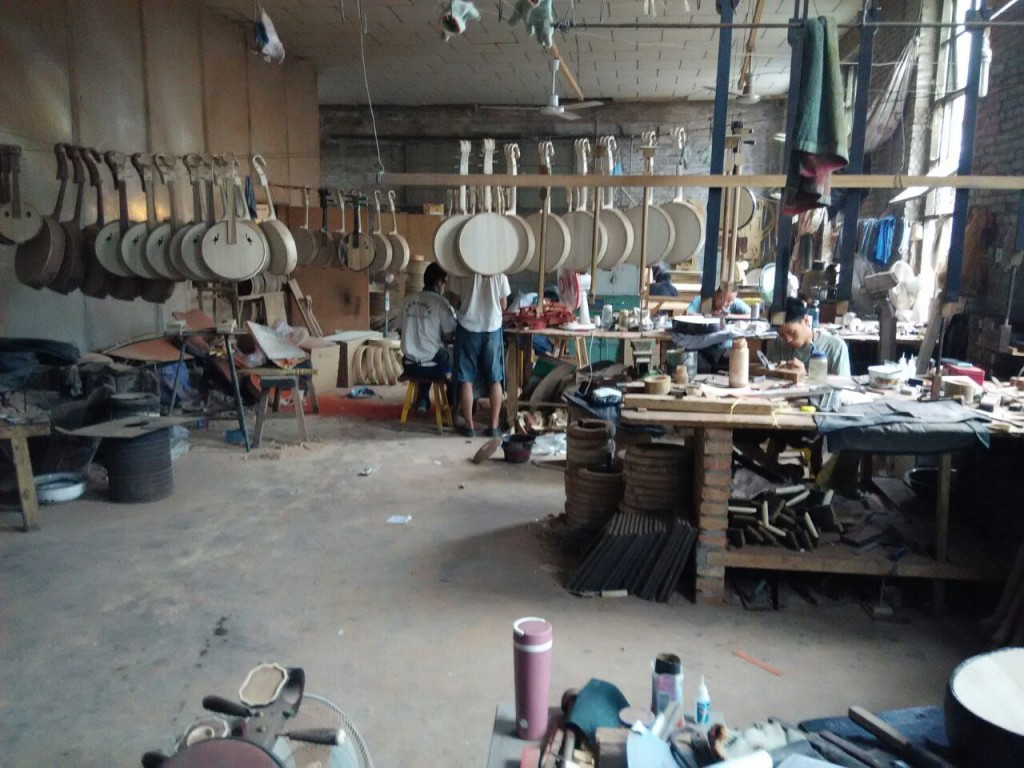 From left: Factory Supervisor, Eason Staff Max Ng, Song Guang Ning, Factory Director, Song Cong Jian (S/o Song Guang Ning), Factory Quality Control.
**Specialised repair by Song Guang Ning has been discontinued**
Do check out our updated Ruan repair page.