Lim Zhan Kuang is an active member of the Guzheng Association Singapore as well as other ensembles. He has been teaching Guzheng since 2017. Zhan Kuang's proficiency in the instrument is recognised by many, and he is often invited as a guest performer for various events with several organisations.
Born into a family of artists of different genres, Zhan Kuang found his own passion in the art of Guzheng when his father, being an avid Guzheng performer himself, introduced him to the instrument at the young age of 5. Choosing to follow in the footsteps of his father, Zhan Kuang pursued further education through the tutelage of Huo Ruo Wei and Liu Bin since his primary school years, participating in numerous SYFs and public performances.
Zhan Kuang passed his NAFA-CCOM Grade 9 with Distinctions in 2012, and at age 16, obtained his Guzheng Diploma under the tutelage and guidance of Tay Pheck Huay. Thereafter, he performed with the Orchestra and Guzheng ensemble in NanYang Polytechnic Chinese Orchestra, under tutelage from Mike Chiang and Johnny Chia.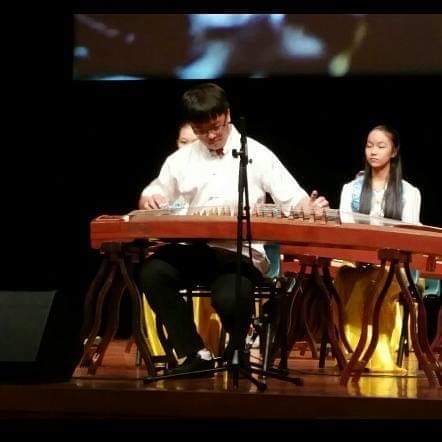 With several years of experience under his belt in Chinese orchestra, Guzheng ensembles, and solo performances, Zhan Kuang begun conducting private Guzheng lessons for the public. His students and/or student's parents commented that he will always find fun ways to teach that made his students eager to learn.
Lim Zhan Kuang is dedicated ever since to share his love in the arts of Guzheng with all of his students, young or old alike, and to inspire them to pursue their own passion in arts.