Cedric Chin started learning Pipa at the age of 10. In 1992, he participated in the Inaugural Chinese Music Competition and won the 1st Prize for the Intermediate Category. The following year, he clinched the 1st Prize again in the Intermediate Category of the National Music Competition Organised by National Arts Council. He then went on to clinch second Prize in the Pipa (Open) Category of National Music Competition in 1995.
In 1997, Cedric was selected to join the Singapore Armed Forces (SAF) Music and Drama Company (MDC) as their Pipa player in its Chinese Orchestra, where he was selected to perform in Rockhampton (Australia) the following year with 14 other artistes from MDC.
Since then, Cedric has since been actively involved in various Chinese Orchestras in Singapore, with more prominent roles as the plucked-strings sectional instructor of People's Association Youth Chinese Orchestra (PAYCO) and the chairman of Nanyang Khek Community Guild Chinese Orchestra (2007-2011).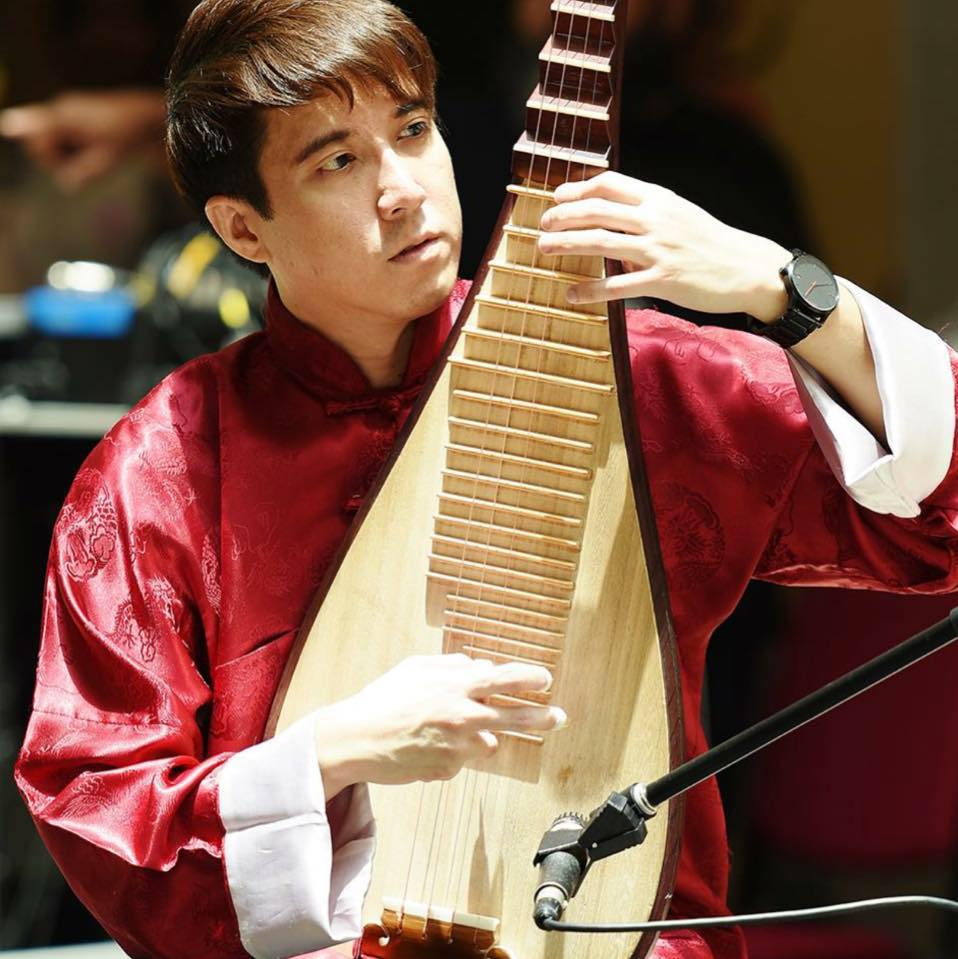 In addition to local performances, Cedric has also represented Singapore in international arts events, such as the following:
- The World Commonwealth Commemoration Day held in New Delhi in 2004.
- Asia-Pacific Harmonica Festival Competition held in Hangzhou on 2008, where he was the Xiaoruan soloist, with Yuhua Secondary School Harmonica Ensemble that clinched the Gold Award.
- ASEAN Network of Major Cities 21 (ANMC 21) cultural exchange held in Bangkok in 2009.
- Inaugural ASEAN Musical Extravaganza held in Kuala Lumpur in 2012.
- International Ramayana Festival held in New Delhi and Patna in 2015, where he played Pipa with traditional Indian musicians from the Bhaskars Arts Academy.
- SAC International Conference of Folk Performing Arts in ASEAN held in Bangkok, in conjunction with the 5th Cycle Birthday of Princess Maha Chakri Sirindhorn in September 2015.
- Represented Singapore with Keat Hong Chinese Orchestra to participate in the Hong Kong Chinese Music Festival organised by Hong Kong Chinese Orchestra in February 2018, where he played a Pipa solo segment in one of the performance pieces.
- In September 2018, Cedric and his multi-ethnic ensemble, Art Dè Trio, was chosen to perform at the Singapore Festival held in Moscow, Russia, and received great compliments from the Singapore Ambassador of Moscow.

Currently the plucked-strings instructor of Bukit Panjang Government High School and Hong Wen School, Cedric has also honed his conducting skills as the conductor of Serangoon Secondary School Chinese Orchestra from 2010 to 2016 and Holy Innocents High School from 2018 to 2019.