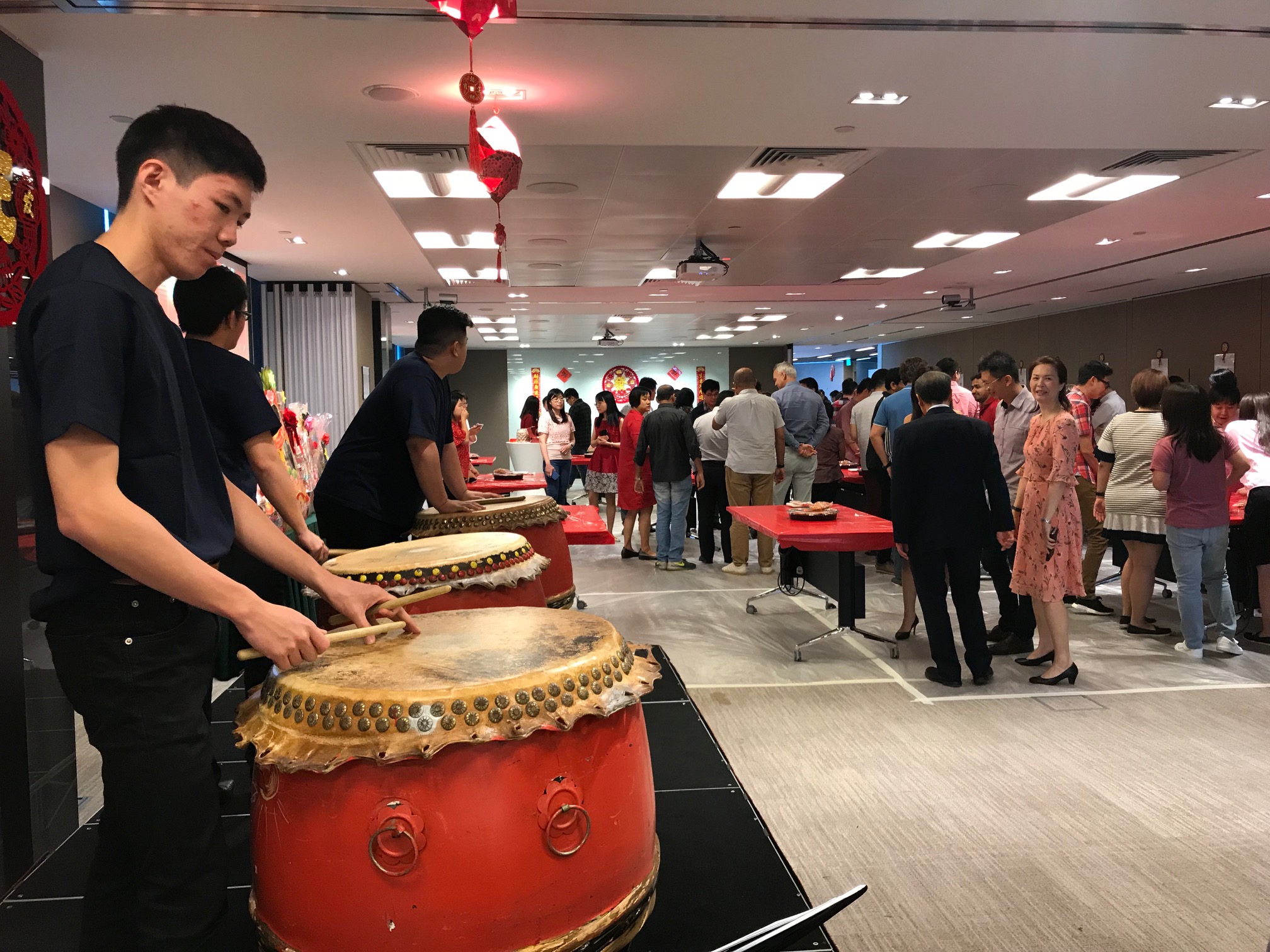 Chinese New Year Drum Opening Performance
February 21, 2019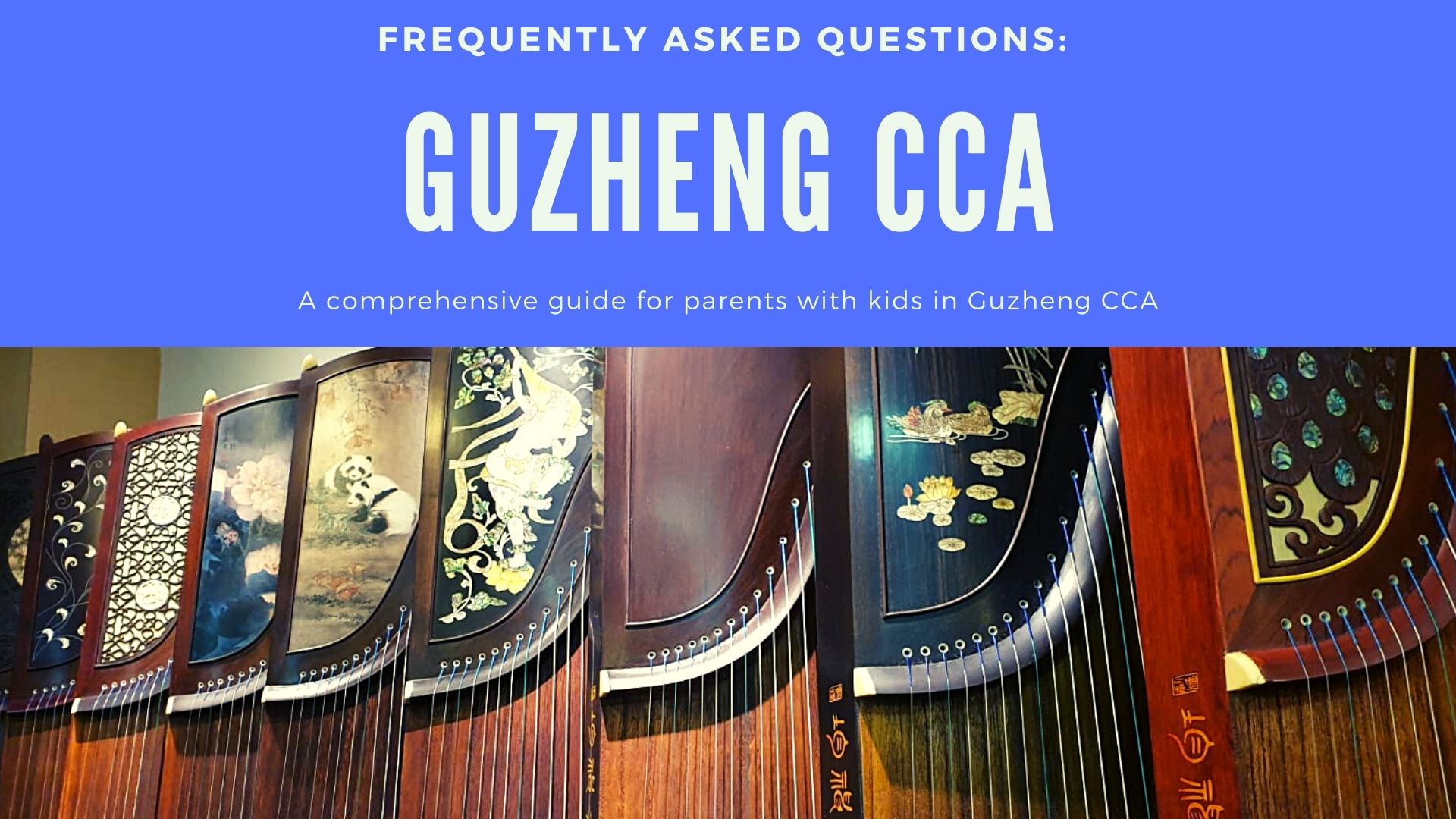 Your Child Just Joined Guzheng CCA? Parents Read This!
March 22, 2019
Chinese Ensemble Performances for Chinese New Year 2019
Every year during Chinese New Year period, we would get lots of enquires from corporates and individuals to engage our EM ensemble to perform. Traditional Chinese instruments playing Chinese New Year songs totally gives a festive feel to the event.
Here are some of the notable ones done by EM ensemble during CNY 2019:
Performances at Square 2 from 18 Jan – 16 Feb | Square 2 shopping mall
We had a series of performances at Square 2 shopping mall. For 5 weekends, we entertained shoppers with some Guzheng solo performances, Guzheng Dizi Duet, Guzheng Pipa Duet, Yangqin Dizi Duet and Yangqin Erhu Duet.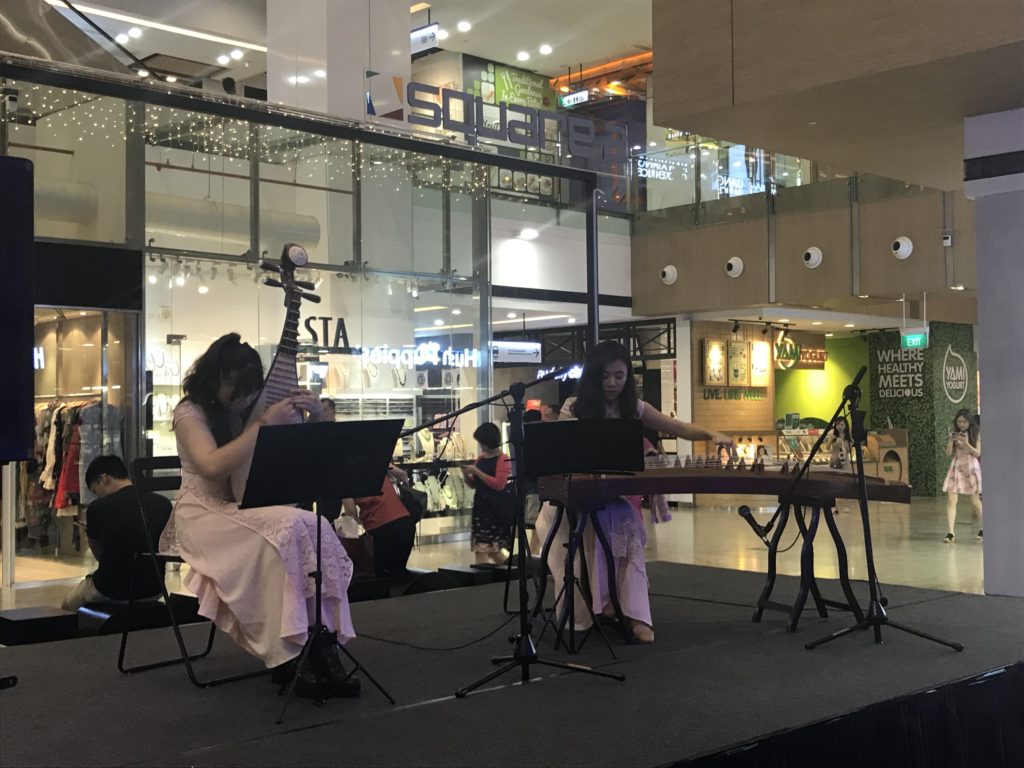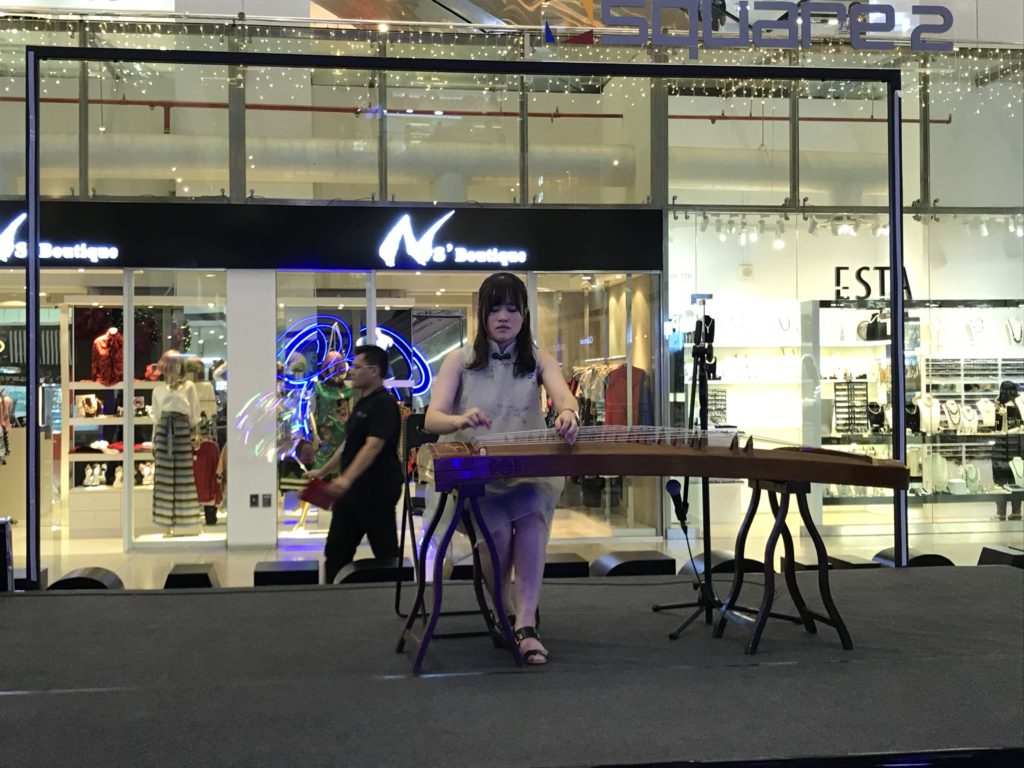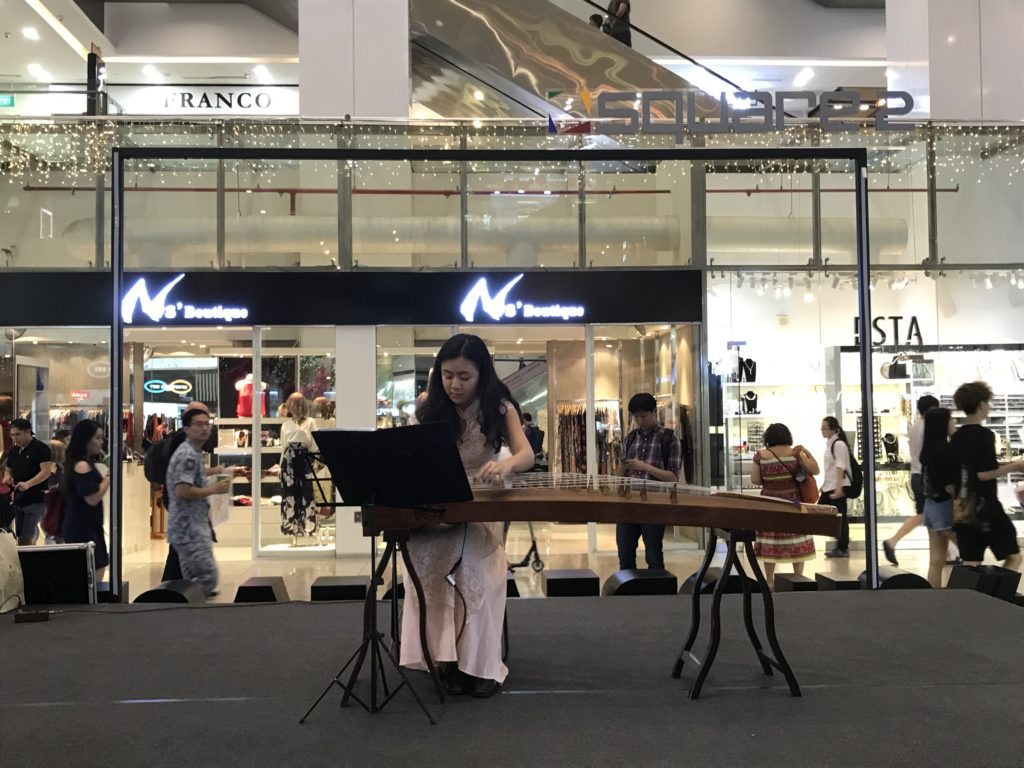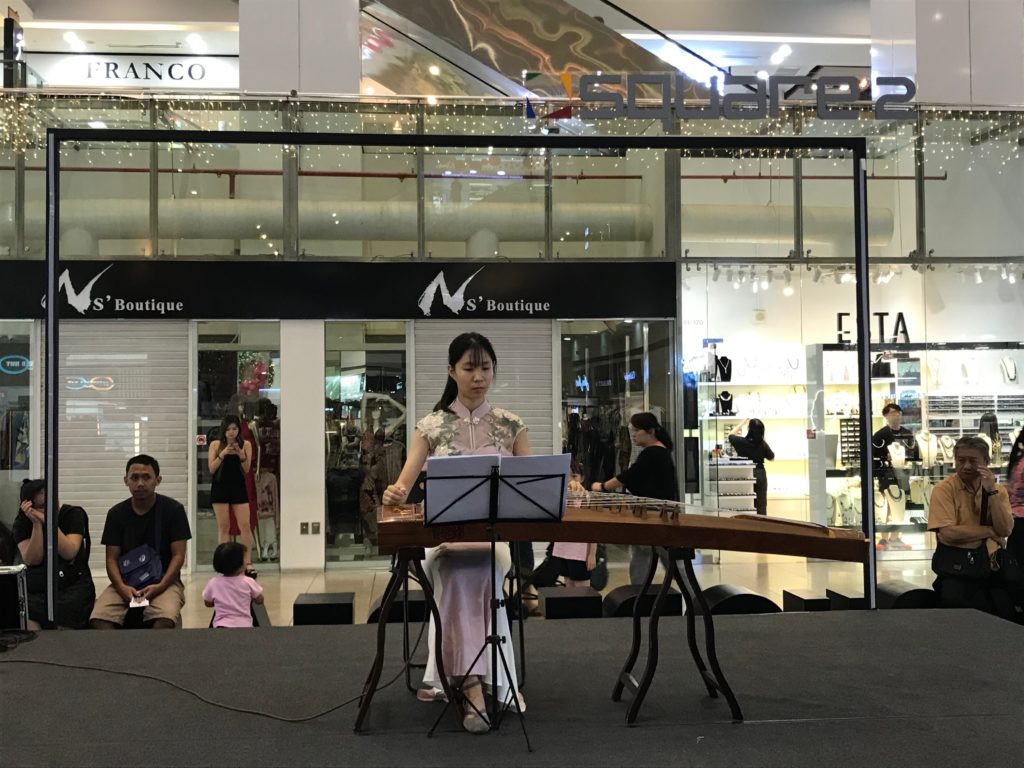 Performance at Punggol Safra on 20 Jan | Yangqin Erhu Pipa Dizi
Our quartet was invited by Safra to perform some Chinese New Year songs as part of their CNY celebrations in Punggol Safra.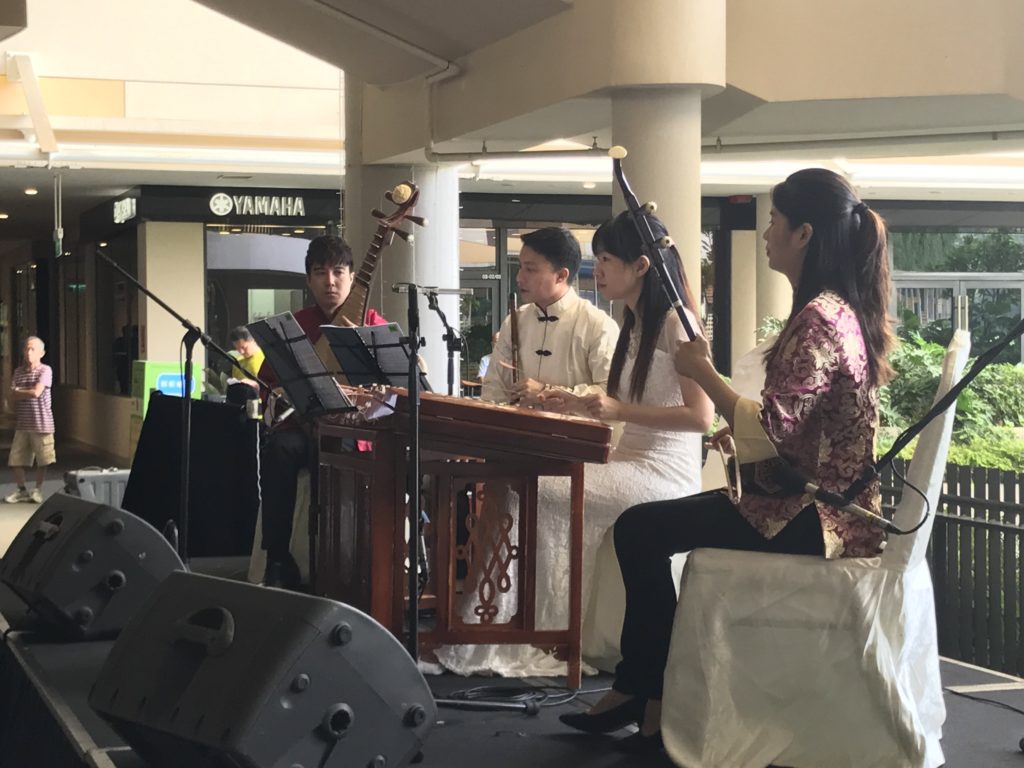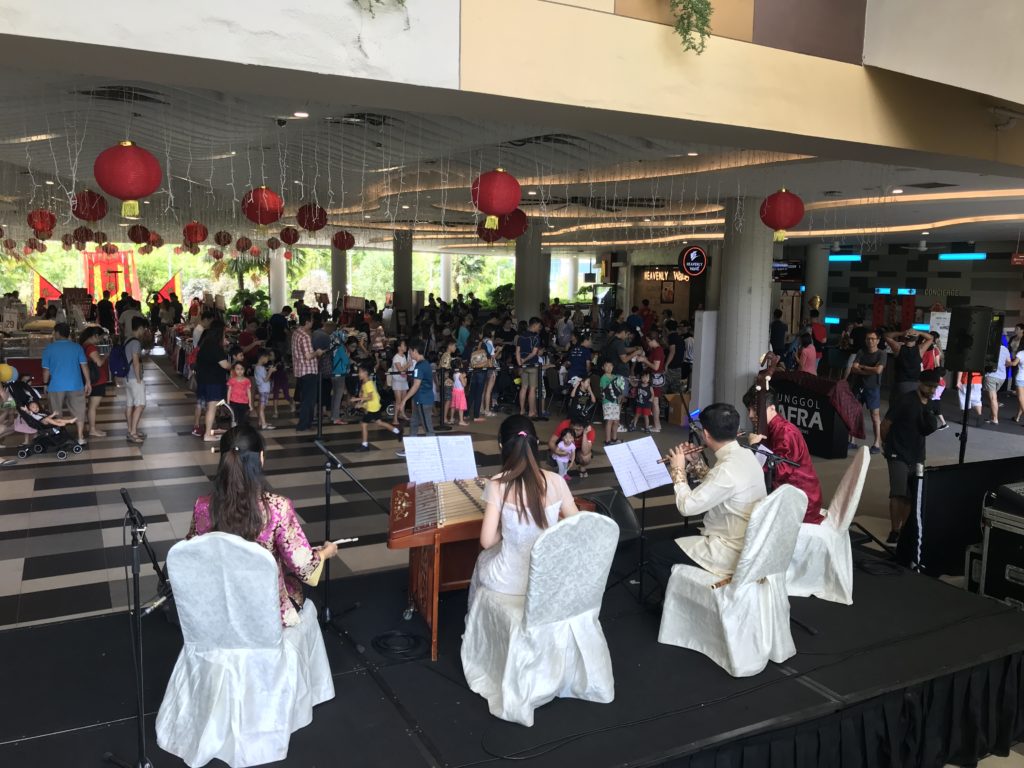 Performance Frasers Tower Lobby on 24 Jan and 31st Jan | Guzheng Pipa, Yangqin Dizi
Our Guzheng Pipa and Yangqin Dizi duo performed for the lunchtime crowd of Frasers Tower. The tall ceiling gave a natural reverb to the music and no sound system was needed to fill the lobby with music.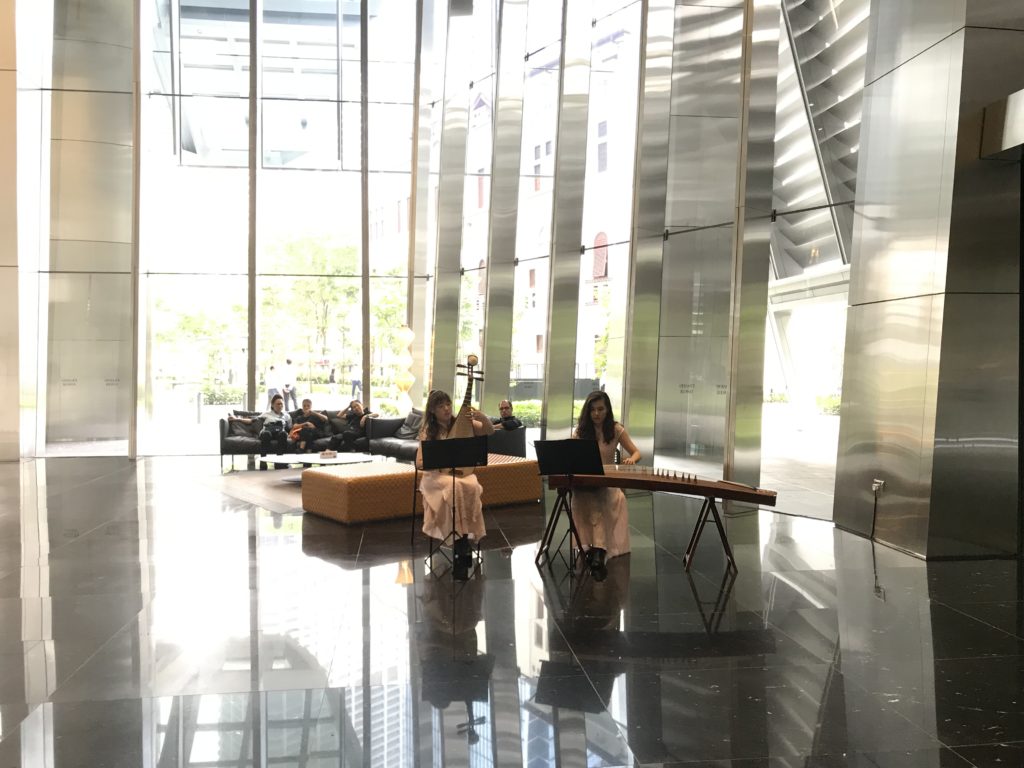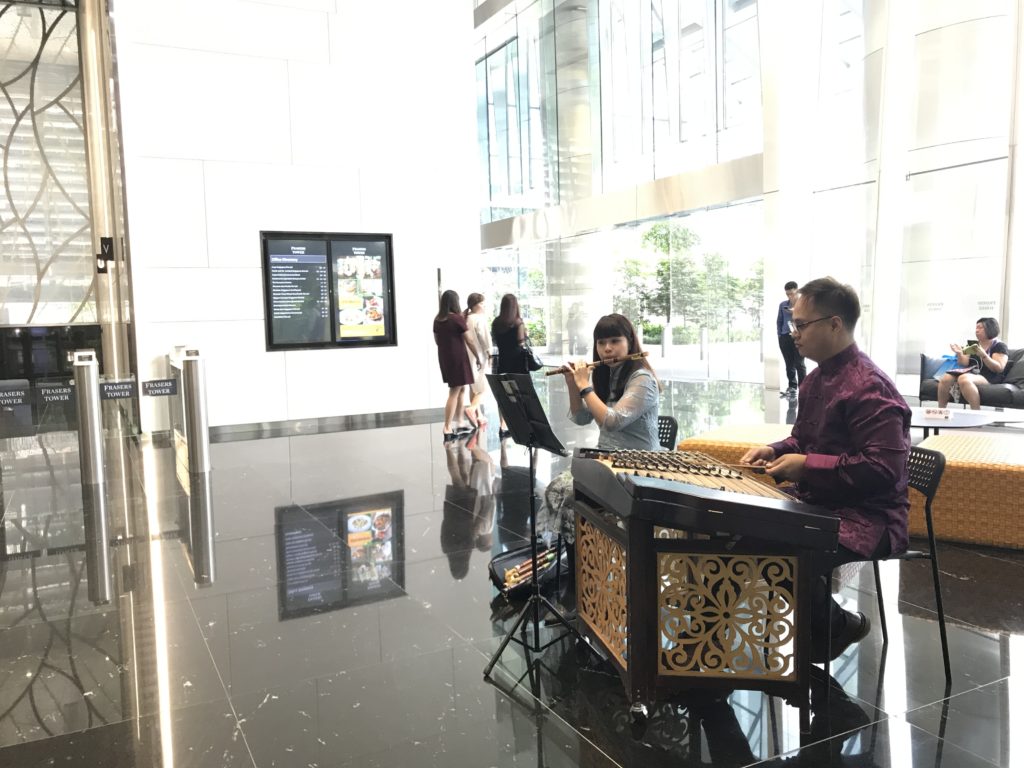 Performances at Clementi Mall on 26 Jan | Guzheng Pipa Dizi
We had 2 sets at Clementi Mall with a trio of Guzheng Pipa and Dizi on a Saturday afternoon. It was a busy day at the mall and a lot of shoppers stopped by to have a listen.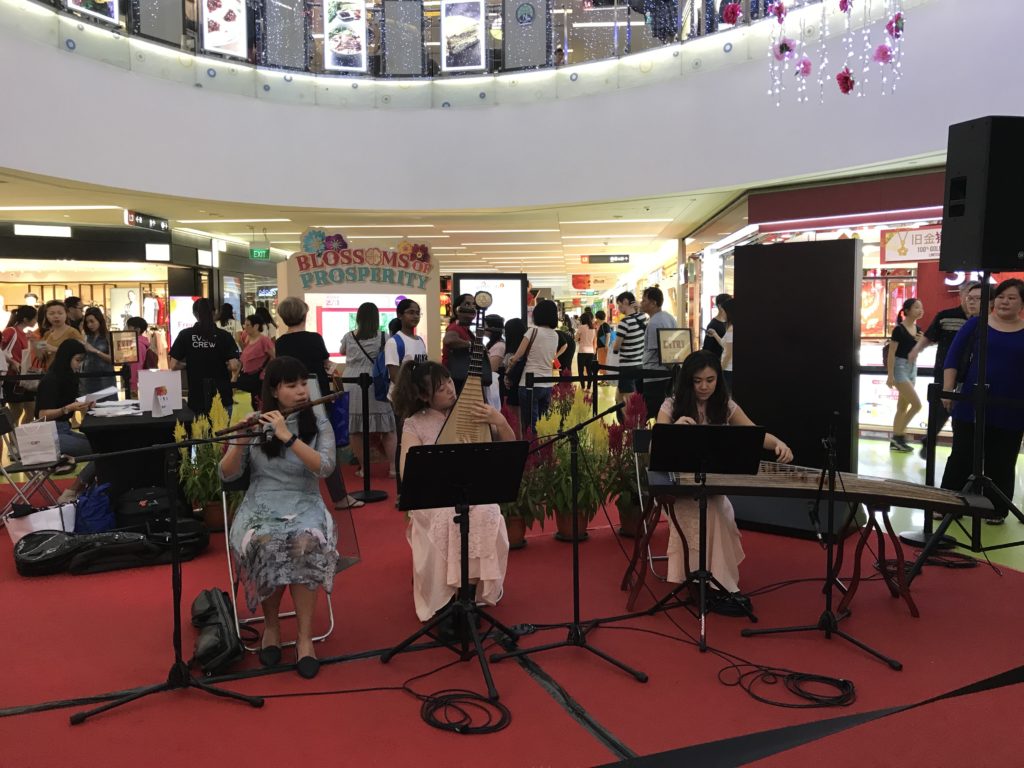 Performances at Sembawang Shopping Centre on 26 Jan | Guzheng Erhu
Our Guzheng Pipa duo performed at Sembawang Shopping Centre as part of their new year activities.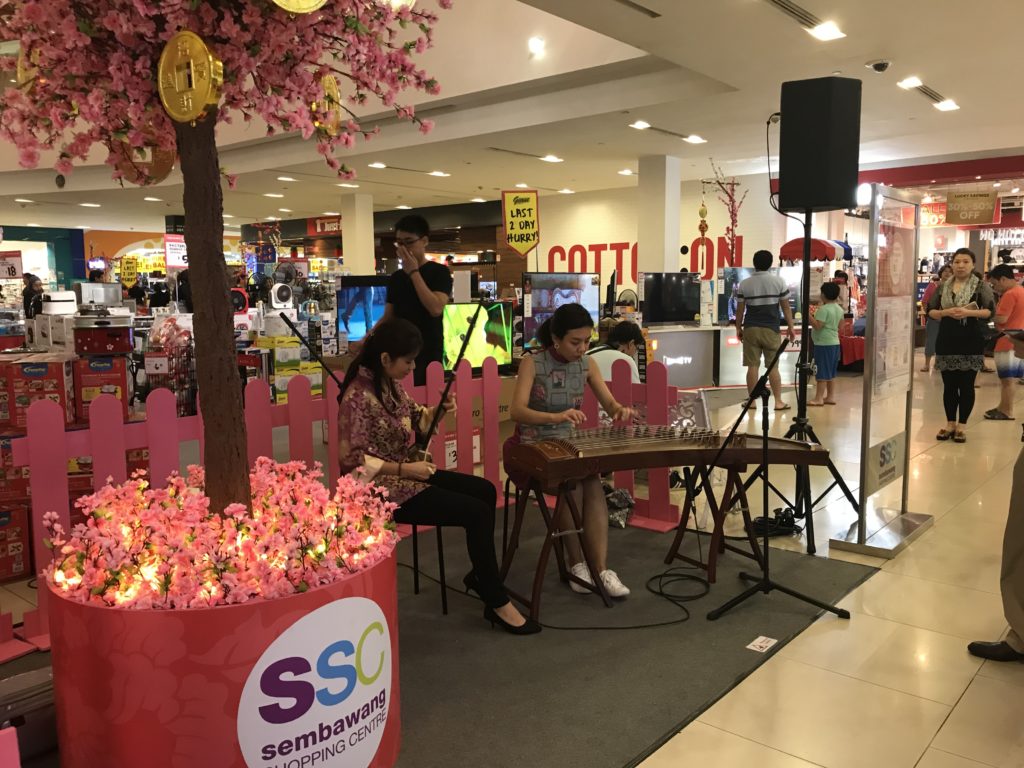 Lunch Performance at Fu Lin Men Chinese Restaurant on 29 Jan | Guzheng Pipa Erhu
The 2nd time we are doing for this company. The music added a festive ambience for their Chinese New Year lunch.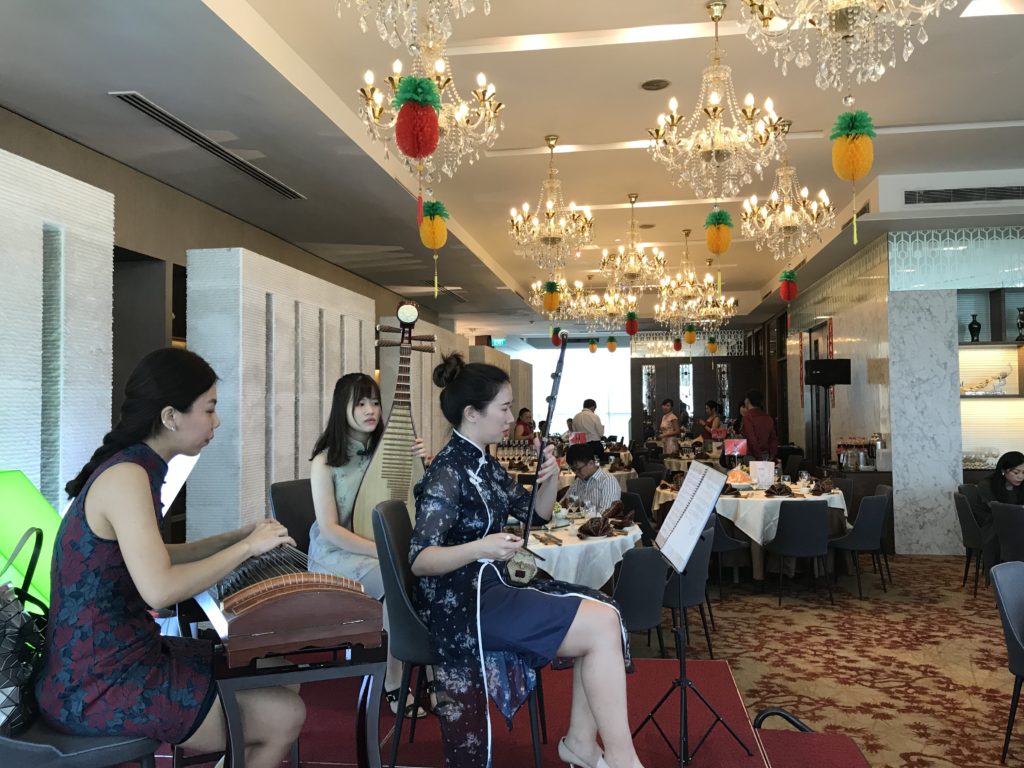 Performance at JW Marriot, South Beach Ballroom for Heineken Company Dinner on 1 Feb | Yangqin Dizi Erhu
Our trio of Yangqin Dizi Erhu performed at a glitzy Chinese New Year dinner of a beer company.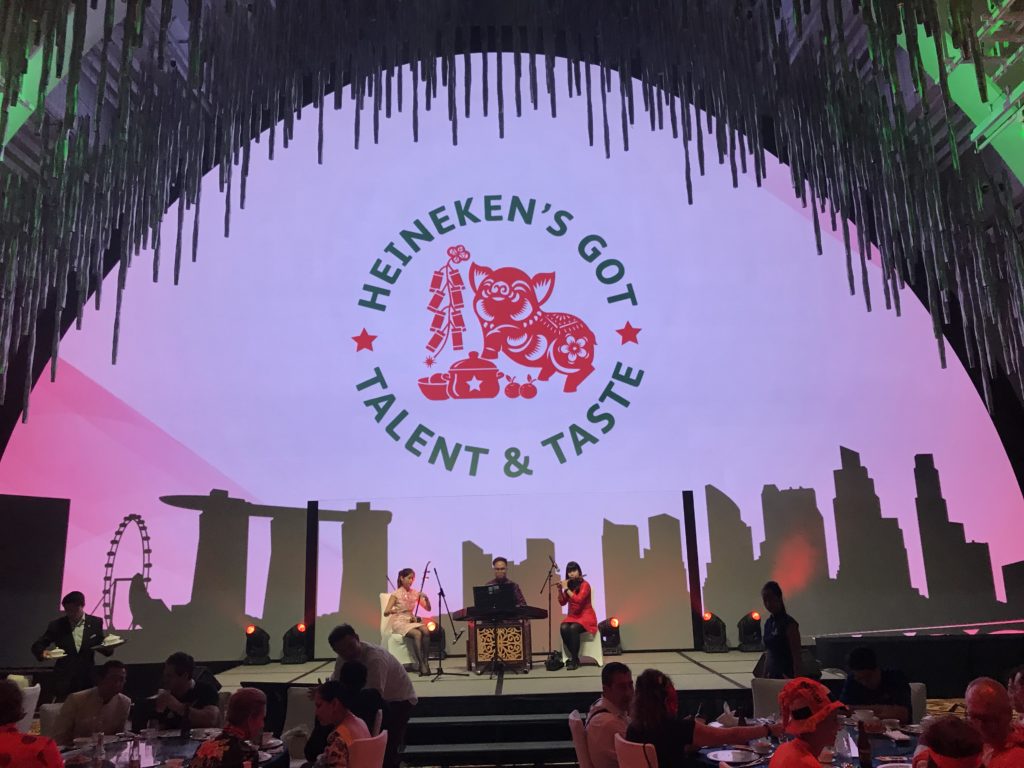 Performance for a Private Chinese New Year Day 2 gathering | Pipa Erhu Guzheng
For the 2nd year running, we were invited to perform at the house of a director of a listed company on the 2nd day of Chinese New Year. It was a gathering for friends and he wanted some Chinese new year music in the background for his guests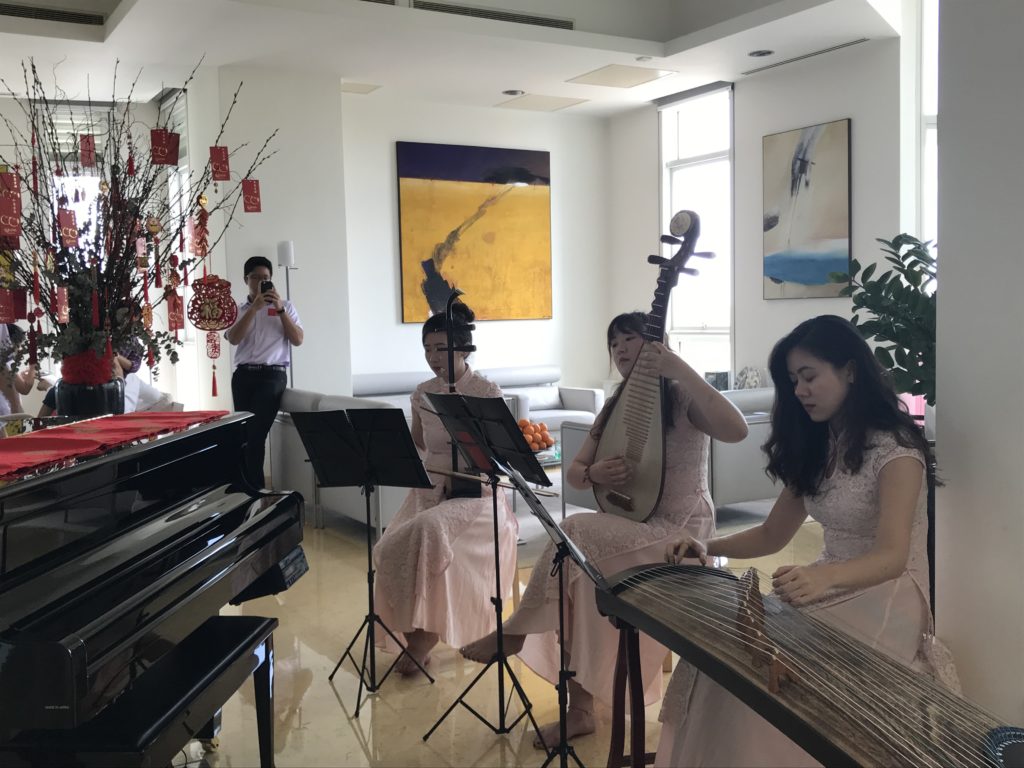 Performance at Fullerton Bay Hotel on 9 Feb | Guzheng Dizi Erhu Sheng
A Chinese New Year dinner performance for Exotic cars club by our quartet of ladies. The Sheng made a rare appearance with Guzheng, Dizi and Erhu. The music was as good as the food!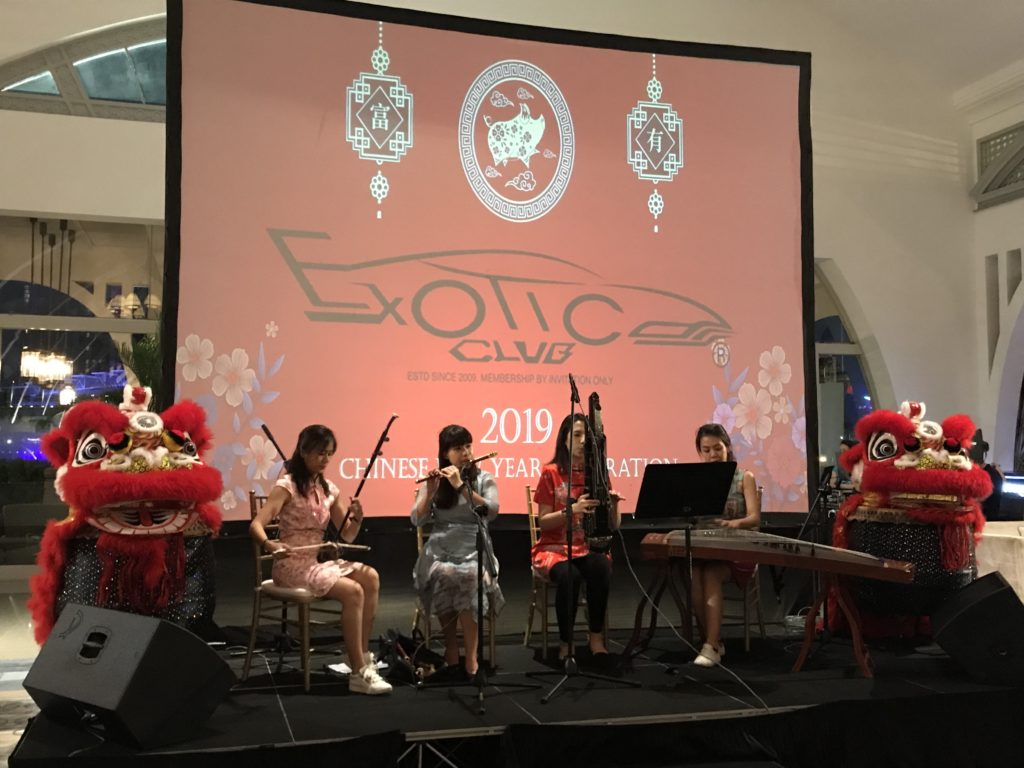 Performances for Ascendas on 12 Feb and 15 Feb | Erhu and Pipa
For the 3rd year running, we performed for a series of Lo Hei lunch for Ascendas and their partners.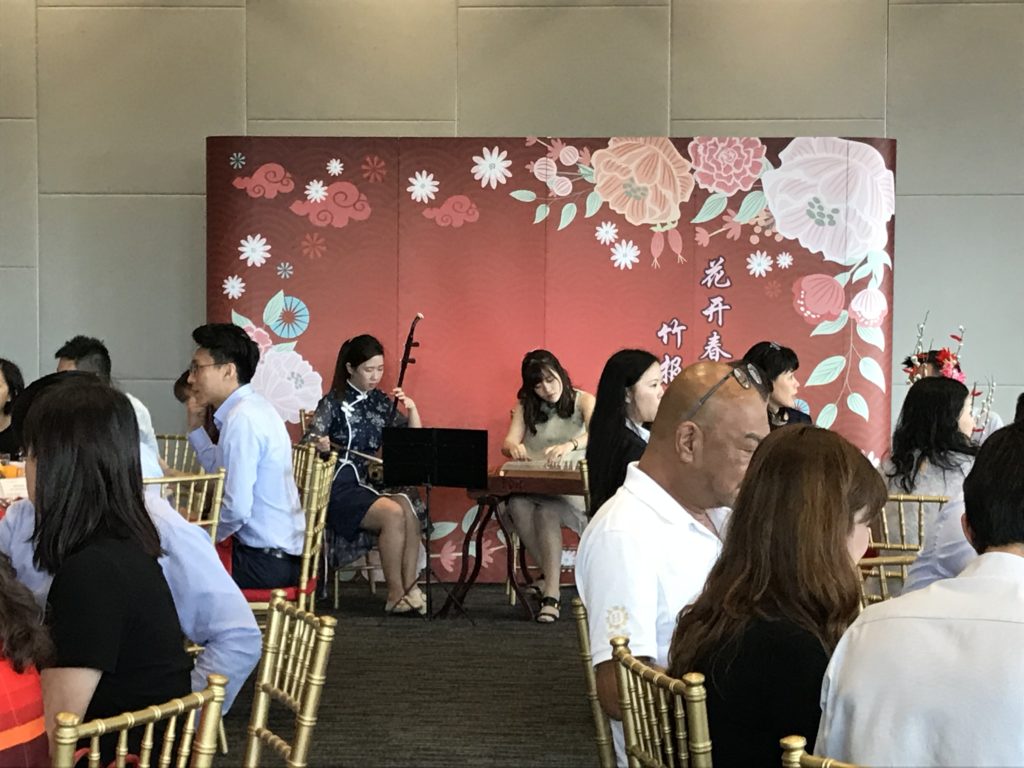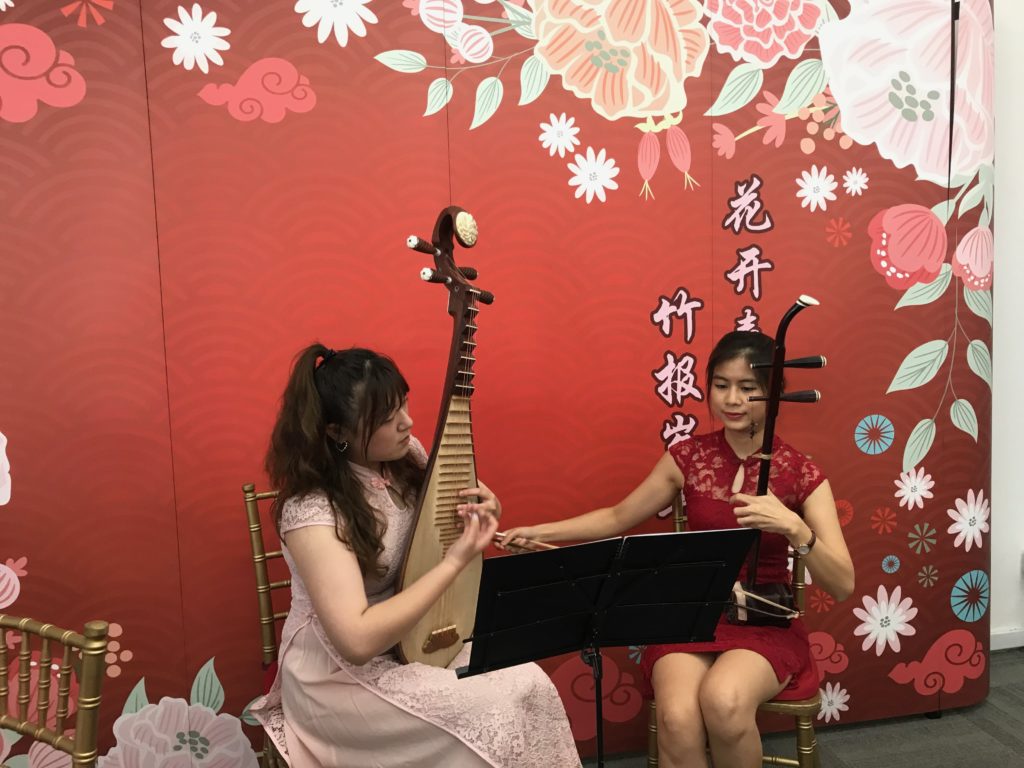 Performance at NUH on 13 Feb | Guzheng Pipa Dizi
Our trio of Guzheng Pipa and Dizi performed for another Lo Hei session for doctors and nurses at NUH.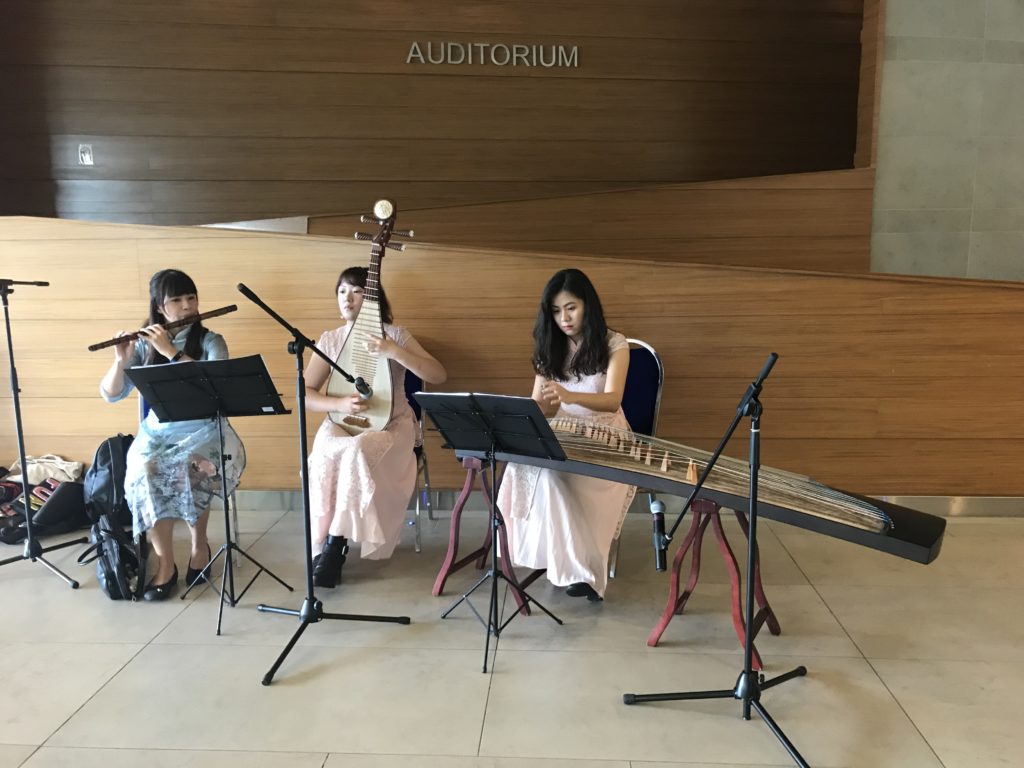 Performance @ Alexandra Technopark on 15 Feb | Guzheng Pipa Dizi
The good people of Alexandra Technopark had a Chinese New Year with some elderlies and our duo of Guzheng and Dizi entertained them with some familiar favourites which they could sing along with. Afterwhich, the Guzheng and Dizi player were joined by a Pipa player and they created some music at the foyer of Alexandra Technopark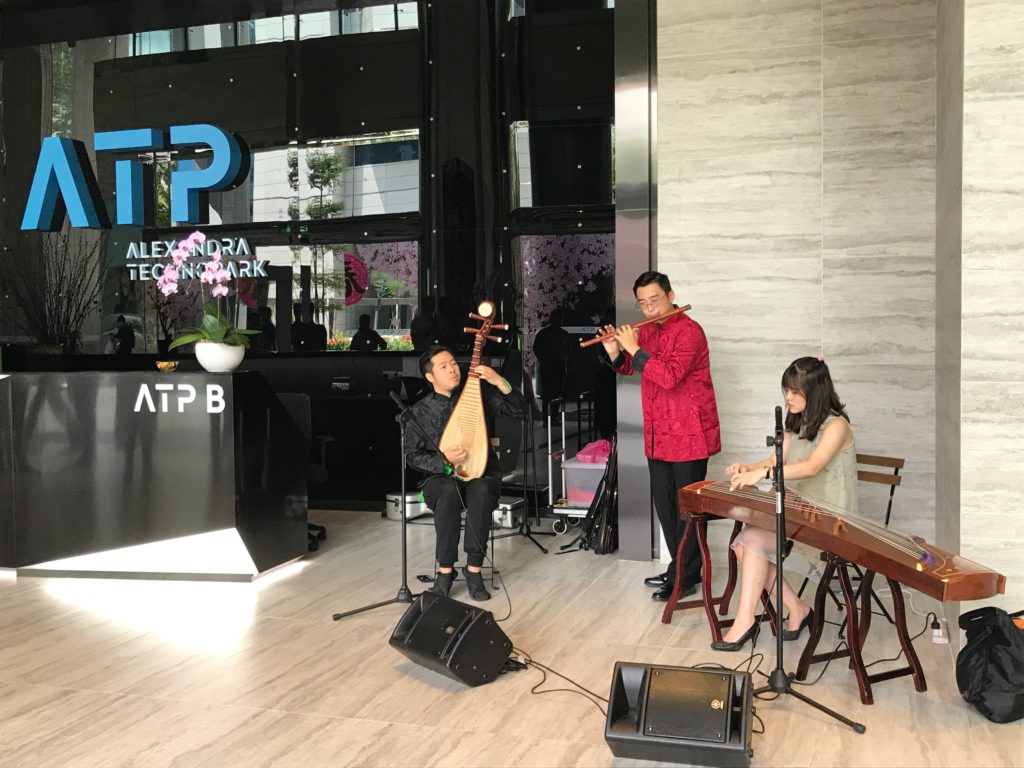 Performance at Conrad Ballroom on 16 Feb | Guzheng Dizi Erhu Pipa
Our all girls quartet had the opportunity to perform for the Chinese New Year Dinner of Porsche Club. The night was long hence we got our most versatile players to entertain with Chinese New Year songs, Chinese pop as well as English pop.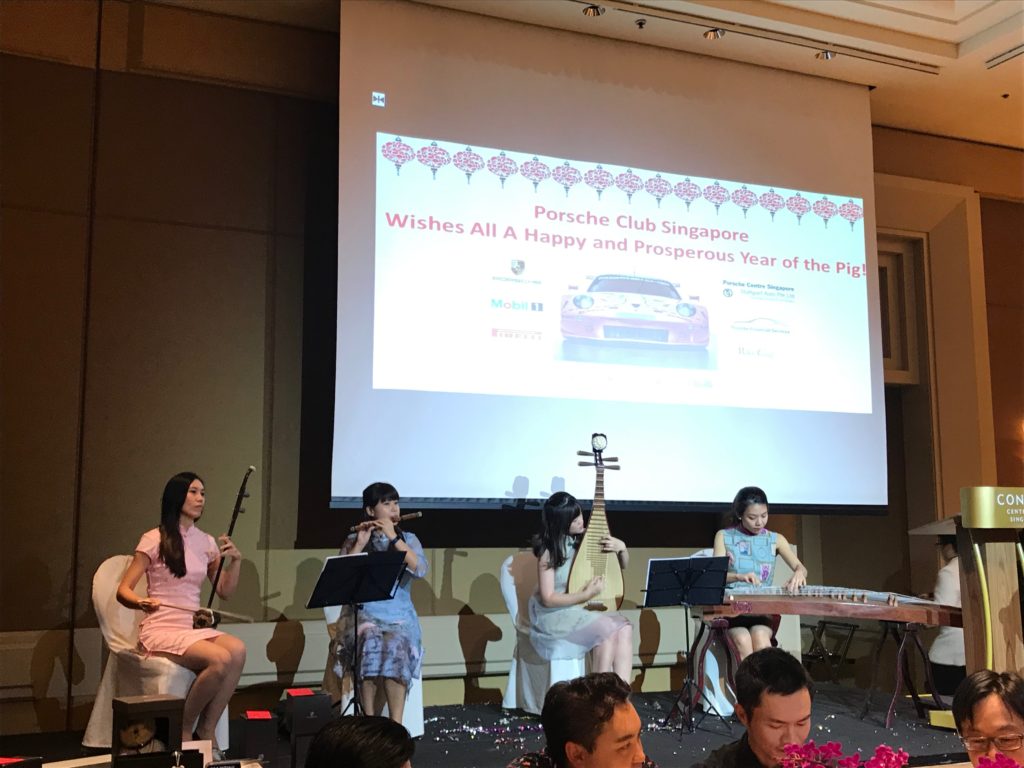 Performance for CNY lunch / factory opening on 18 Feb
This performance took us almost all the way to Tuas second link. It was the opening of a steel factory and Minister Sim Ann was the guest of honour. The owner of the steel factory loved Cantonese tunes and specially requested for tunes such as 半斤八两 and 海阔天空.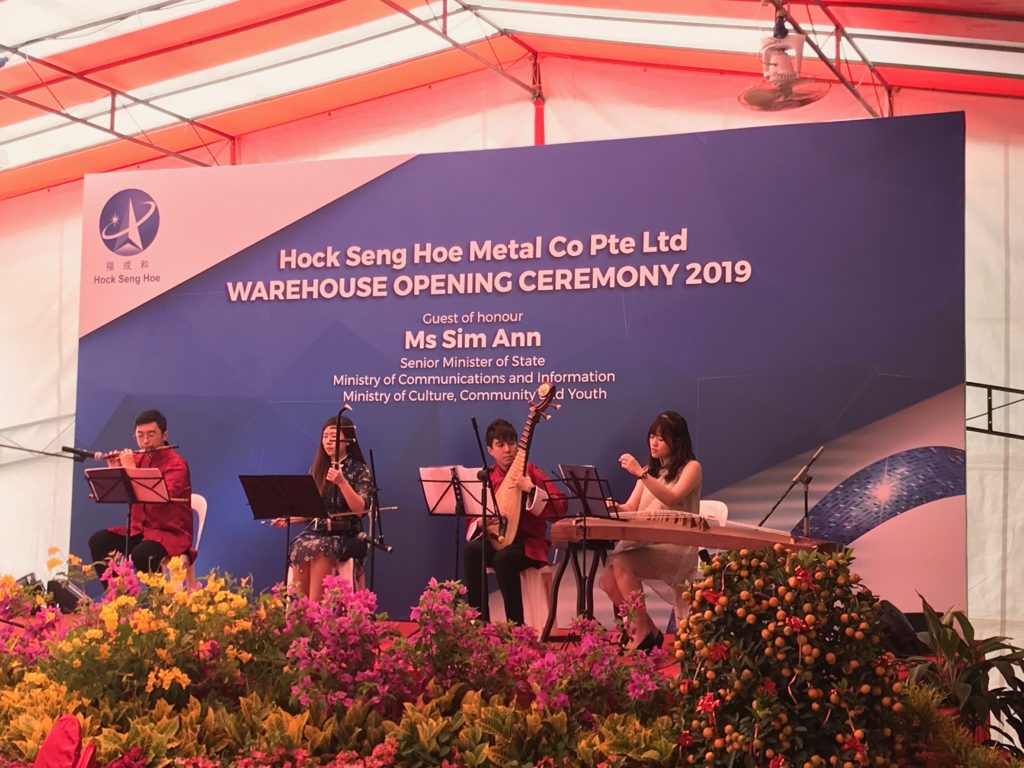 —————————–
And that wraps up our performances for Chinese New Year 2019. If you have any event that needs live music, do drop us an email at [email protected] for videos and more information.
Chinese music instruments can play all genres of music hence you do not need to wait till Mid Autumn Festival or the next Chinese New Year!